Finn Fem Fel
Started in 2019, Released in 2021.
Instrumental songs made with samples that start on the letter "F".
Genre: Electronic, Synthpop, Orchestral, Rock, Metal, Pop...
Lyrics: none.
Tracks: 28.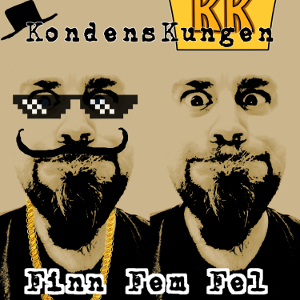 deezer link
spotify link
youtube link
This is one of the least important albums I've made in a while. It's like a "breather" of pure playfulness between more serious projects and it's not as polished and tinkered with as the latest Gammis album or the coming Detached Ignorance release. The only boundaries I've given for the KondensKungen albums is that all tracks must be made with samples starting on the same letter and that there's no lyrics even if there's choirs sometimes. Here all tracks are made with samples on the letter "F". The title of the album "Finn Fem Fel" means: "Find Five Faults", but I'm sure that you can find several more. I'm still happy with the results though, given the short amount of time I've worked with the individual tracks. Big thanks to all that played with me in the album: My brother "Klåpfinger", my kids "Sibbe" and "Struten" and last but not least, a big thank you to my friend "Zigge" for his contribution.